Set against the backdrop of the Czech Republic's stunning landscapes, towns such as Karlovy Vary, Mariánské Lázně, and Františkovy Lázně have gained renown for their therapeutic offerings and the restorative qualities of their natural springs.
Join me on a journey through these enchanting spa towns, where wellness takes center stage.
Getting There:
The spa towns in the Czech Republic are well-connected and easily accessible. If you're traveling from abroad, the best option is to fly into Prague, the capital city. From Prague, you can reach these spa towns by various means of transportation, including trains, buses, or private transfers. The distances are relatively short, allowing for convenient day trips or extended stays.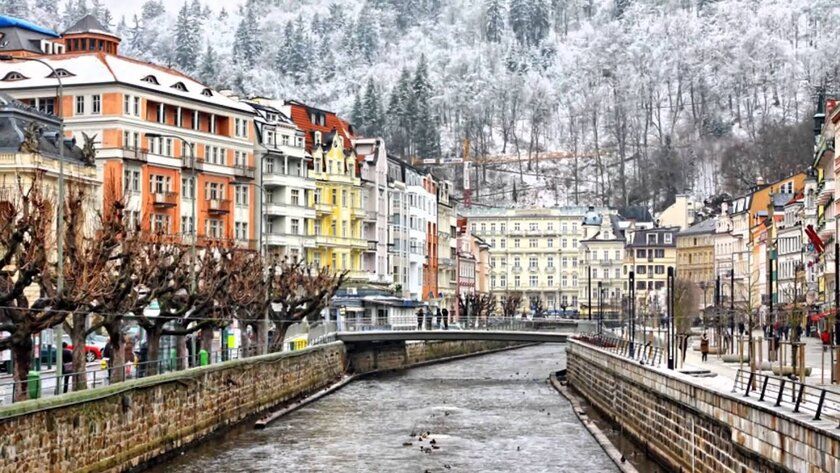 Karlovy Vary:
Karlovy Vary, also known as Carlsbad, is perhaps the most renowned spa town in the Czech Republic. Famous for its thermal springs and exquisite colonnades, this charming town has been a favorite among European royalty and celebrities for centuries.
To fully immerse yourself in the healing properties of the thermal waters, be sure to visit the impressive Mill Colonnade or the Hot Spring Colonnade, where you can sample the mineral-rich waters from ornate drinking fountains.
The town is also home to a multitude of wellness centers and spa facilities offering a range of treatments, from traditional mineral baths to modern wellness therapies.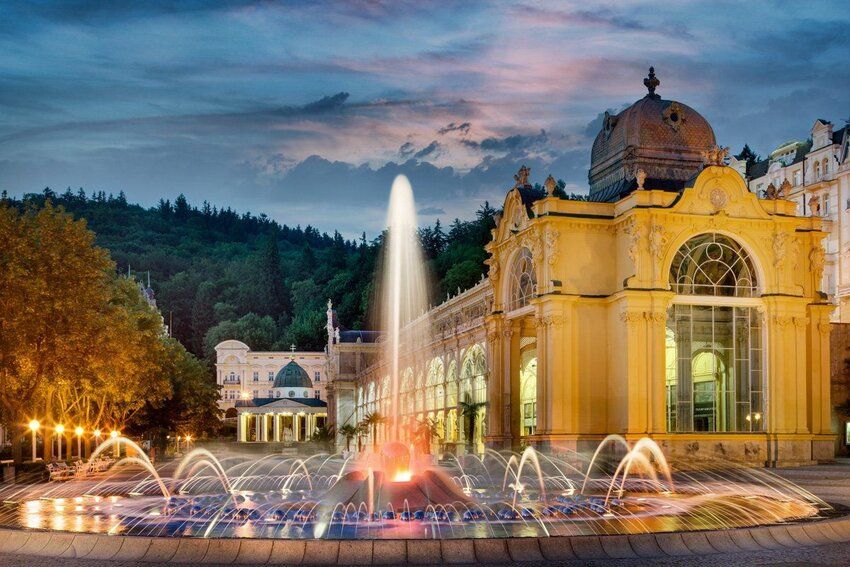 Mariánské Lázně:
Located amidst lush forests and manicured gardens, Mariánské Lázně exudes a tranquil ambiance that is perfect for relaxation. This spa town is famous for its curative springs and breathtaking architecture.
Take a leisurely stroll along the colorful Singing Fountain colonnade, where you can enjoy live music performances while savoring the healing atmosphere.
Don't miss the chance to indulge in a traditional carbon dioxide bath, a unique treatment that utilizes the town's natural resources.
Mariánské Lázně also offers a wealth of wellness facilities, including luxurious spa resorts and wellness hotels, ensuring a pampering experience.
Františkovy Lázně:
Tucked away in the western part of the Czech Republic, Františkovy Lázně is a hidden gem known for its peaceful ambiance and mineral-rich springs.
This spa town offers a more intimate and relaxed atmosphere compared to its counterparts. Immerse yourself in the therapeutic properties of the local springs at the beautifully restored Colonnade Slatina, and explore the surrounding parks and gardens, perfect for rejuvenating walks.
Františkovy Lázně boasts a range of wellness centers and spa hotels that provide an array of treatments, including mud baths, hydrotherapy, and wellness rituals.
Choosing the Right Time to Visit:
The spa towns of the Czech Republic can be enjoyed year-round, but each season offers a unique experience.
Spring and autumn are ideal for mild temperatures and fewer crowds, allowing you to fully savor the tranquility and therapeutic benefits. Summer brings a livelier atmosphere with various cultural events and festivals, while winter offers a cozy ambiance and the opportunity to indulge in indoor spa treatments and thermal baths.
Plan your visit based on your preferences, and consider booking accommodations and spa treatments in advance, especially during peak seasons.
Where to Stay:
Accommodations in the spa towns range from luxury spa resorts to boutique hotels and guesthouses. For a truly immersive experience, opt to stay in one of the historic spa hotels that have been welcoming guests for centuries.
These establishments often combine modern comforts with traditional Czech charm, providing elegant accommodations, spa facilities, and easy access to the town's thermal springs.
Many of these hotels boast stunning architecture and opulent interiors, offering a glimpse into the bygone era of indulgence and relaxation.
If you prefer a more intimate setting, there are also boutique hotels and guesthouses that offer personalized service and a cozy atmosphere.
These smaller establishments often capture the essence of the spa towns, with charming décor and a focus on wellness.
When choosing your accommodation, consider its proximity to the town center and the thermal springs.
Opting for a hotel within walking distance allows you to easily access the spa facilities and enjoy leisurely strolls through the town's beautiful parks and gardens.
Outside of the spa towns, you'll find a range of accommodations in nearby cities and towns. This can be a great option if you prefer a more diverse experience, combining visits to the spa towns with exploring other attractions and natural wonders in the surrounding areas.
In addition to the spa treatments, the spa towns offer a wealth of recreational activities. Take advantage of the picturesque surroundings and indulge in scenic hikes, bike rides, or golf outings.
You can also explore the rich cultural heritage of the Czech Republic by visiting nearby castles, museums, and historical sites.
When visiting the spa towns, it's important to take the time to relax and rejuvenate. Embrace the slow pace of life, savor the therapeutic treatments, and immerse yourself in the healing atmosphere.
Whether you choose to soak in the mineral-rich thermal waters, enjoy a soothing massage, or partake in a wellness program, let the spa towns of the Czech Republic guide you towards a renewed sense of well-being.
The spa towns of the Czech Republic offer a haven of relaxation, natural beauty, and historic charm.
Whether you seek a rejuvenating escape or a holistic wellness experience, Karlovy Vary, Mariánské Lázně, and Františkovy Lázně will captivate you with their therapeutic springs, tranquil surroundings, and exceptional hospitality.
Indulge in the healing powers of the thermal waters, explore the town's architectural wonders, and embrace a journey of well-being in these enchanting spa towns. Here you can read tips for travel to Krumlov in Czech Republic, an amazing place to visit in your next trip.