Visit Greece for the Perfect Destination Wedding
Until a few years ago, weddings were all about organizing a small ceremony in your home town with just close friends and family members. After the ceremony, couples would go some place nice for a honeymoon. Usually, a tropical country would be the most preferred choice. However, these days, almost every bride chooses to get out of those big diamond rings and Cinderella ball gowns, and trade them for flowing beach gowns and crystal foot jewelry at a destination wedding.
[ad#ad-160]
Whether you're looking to have some fun or always liked a particular place abroad, a destination wedding can be organized just as you want. Many brides choose a destination wedding on a white sandy beach with their loved one at sunset. Some even throw a huge party on the beach for everyone they know.
Some couples even visit snowy mountains to have a perfect special day. If you choose a destination wedding for your special day, a wedding in Greece will be your best choice. Some of the tips mentioned for planning a destination wedding have been
explained in this post.
Exceptional Greek Weddings
Greece has always been popular for unique landscapes, great weather, open spaces and rich culture. All these elements provide a perfect canvas to paint a beautiful picture with rich colors of your wedding. It is worth mentioning that planning a wedding in Greece is quite easy, with many Greek islands offering some good options for tourists. However, you should be aware of some islands which prohibit tourists from getting married. For instance, Acropolis does not allow you to get married.
Heading to One of Greek Islands
Greece is a very popular place among tourists. At times, heading to Greece prior to your wedding day can be very difficult for couples with work commitments, tight budgets, children or some other challenges. While planning a wedding in Greece, you need to consider all these factors.
It is clear that hiring the services of a wedding planner is extremely important. If you're planning a destination wedding, a wedding planner will be very helpful and make everything easier for you. In fact, many brides until this day are extremely thankful to wedding planners for helping them out. While planning your wedding in one of the islands on Greece, you should check out some wedding planners for more information.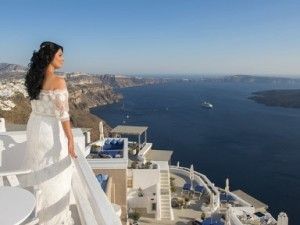 Time Frame to Plan Your Wedding
When planning a far away wedding, you should consider the fact that it takes a lot of time to plan a destination wedding. There may be various barriers associated with a destination wedding. Some of these include unfamiliarity with culture, language, unfamiliar location and so on. Therefore, you need to plan your destination wedding ahead of time.
For most destination weddings, it is extremely important to plan a destination wedding at least one year in advance. During this time frame, it will be easier for you to prepare vendors, guests and venues for your special day. It will also give you more time to plan your flights and lodging in an appropriate amount of time.
Destination Wedding Planning Guide in Greece
It is always better to be flexible with your destination wedding date. If you keep your wedding date flexible, it will be possible to get better deals with venues and vendors you could have easily missed. Weekends and holidays can be quite expensive and completely booked. These days mostly require a guaranteed expense of spending more on food, drink and accommodation.
A destination wedding in Greece on a weekday can get you the same kind of goods and services. However, they can easily help you save over 50% of the total cost. If you keep your schedule flexible, you will be able to even access off-peak season discounts, deals and freebies. A great wedding planner will have no problems in looking for these options on your behalf.
Mind Your Budget
One of the most important piece of advice that can be given to you while planning a destination wedding is that you should mind your budget. Without proper planning, your budget can exceed quickly. Moreover, most foreign couples underestimate the costs of a destination wedding. They even tend to miss important details that could be crucial to plan a destination wedding.
You need to either consult locals or wedding planners who are aware of both location and your budget. This will make sure your budget does not go out of control. A local destination wedding planner will guide you about the best venues, hotels, weather conditions, restaurants and other elements that will help you plan a destination wedding. Moreover, a wedding planner will be able to give you some crucial advice about planning your honeymoon in a nearby location.
Live Your Fantasy in Greece
[ad#ad-160]
A destination wedding in Greece is like a fantasy turning true. While marrying your lover on a Greek island, you will be able to partake in this beautiful land of legends and myths. The place offers rich culture and gives you once in a lifetime opportunity to make your special day more memorable and unforgettable. All the memories that you take home from Greece will stay with you forever. Even your guests will have the time of their lives in this beautiful country.
You can easily set sail with your loved one to a romantic getaway on a Greek island, spend some alone time on idyllic beaches or visit towns including narrow alleys. You can even visit some beautiful blue-domed churches and red-tiled homes. Most couples also plan to head to vast mountain ranges, lush forests and wine-producing valleys.
Greece has always been a paradise for cultural tourism. You can choose to experience stunning archaeological sites and magnificence of Acropolis. You can even explore a traditional market to dine and shop at a taverna. Greek also offers a wild nightlife with various options to enjoy and explore. You will find infinite ways to spend your time in this beautiful country.
Some popular destination wedding locations in Greece include Santorini with beautiful caldera view, Athens with its luxury and ancient resorts, Rhodes island, Crete island, Zakynthos and a lot more. With proper planning, you could never go wrong with a destination wedding in Greece.
Source: www.weddingingreece.com
Preparation for the wedding isn't easy. But it's much easier with whiteswanbridal.com. See what services they offer: http://www.whiteswanbridal.com/services.htm
Know more about greek girls and how are the greek women. Too you can found some greek words and love phrases.