[ad#ad-160]
Perast in Montenegro is one of the most beautiful cities in Boka Bay, located a few kilometres northwest of Kotor.
Perast is a beautiful old town, with wonderful old architecture.
You will enjoy the many old churches and palaces, but probably the biggest attraction is for sure: Our Lady of the Rock (Gospa od Skrpjela), a small island in Boka Bay made by humans (isn't a natural island), with an amazing church and the museum.
Almost every few minutes, some small taxi boats travel to this unforgettable island, the ticket cost only 3 euros.
Perast has around 600 inhabitants.
Perast is located in the inner part of Kotor Gulf. The town can be accessed through the Tivat airport, bus or car,
The restaurants on the Perast coast offer great fish specialities.
This is for sure, one of the top places in this part of Europe and you need to visit it.
Believe or not in Perast you can found 19 palaces, more of them built in the 17th and 18th century, and are situated on the waterfront.
Perast has a very well preserved baroque architecture in the coastal part of Montenegro, at the foot of the hill of St. Elias, about 12 km north of the town of Kotor. Between the 13th and 18th centuries, Perast belonged to Venice.
The most beautiful buildings were built in the period when Venice had Perast in the 17th and 18th centuries when Perast was at its peak. The palaces (Palace Bujovic, Zmajevic Palace, Palace and the Palace Smekja Badovic) belonged to sea captains and were built in the baroque style due to the typical Venetian architecture
We are sure you will enjoy the magnificent natural beauty of the southernmost fjord – Bay of Kotor, unforgettable mountains that surround Boka bay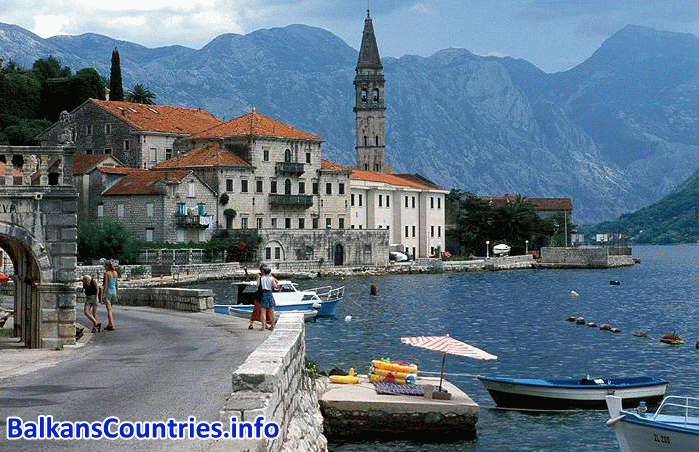 Perast is one of the more visited places for tourist who visit Montenegro.
Perast, is for certain, one of the very most attractive vacation spots in the Kotor (Boka) Bay. A pleasant little old town, which is specific for most things.
[ad#ad-336-280]
Throughout the record, many have battled to overcome this place and put it under his wing (Byzantine Empire, Venetian and Hungarian, people from France, Austrian …). Each has kept a significant symbol on this wonderful beautiful little place.
Today, Perast is one of the blissful luxury vacation spots in Montenegro, that provides a remarkable experience. Museums and churches, but most importantly, the primary interest is the island Our Woman of the Rock and roll – is one of both islets off of the shoreline of Perast in Bay of Kotor. Relating to legend, for decades, local seamen and sailors, tossing stones into the sea, after locating the icon of Madonna and Child on the stones in the ocean. In this manner, they made this little man-made island.