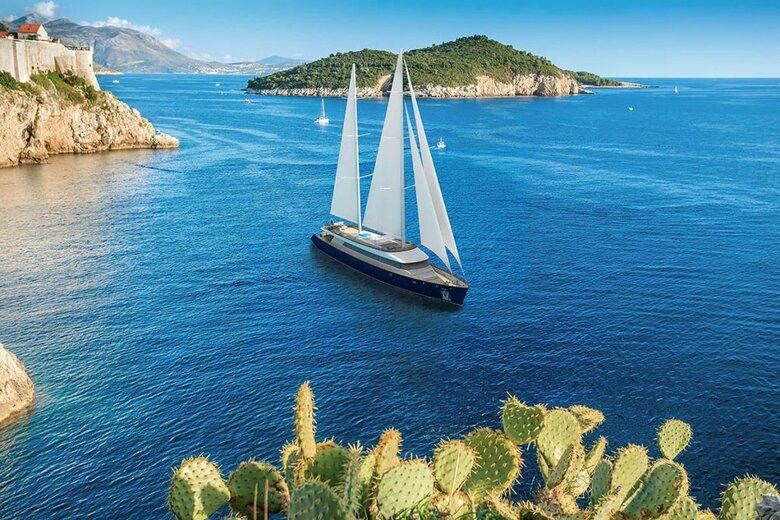 What better vacation holiday is there than one that includes sailing around beautiful islands of Croatia, taking in the breathtaking views along the Adriatic or Mediterranean seas and getting plenty of sunshine, swimming and site seeing in? 
Your personal skipper will attend to all the work on your personal yacht as you spend a whole week sailing around the beautiful Adriatic and Mediterranean routes that makes Croatia such a beautiful location. Imagine being able to dip your toes and your soul in these exotic waters.
Summer is the better time to book your yacht in Croatia and enjoy the Dalmatian coast.
You will go island hopping around the most popular locales like Split, Lastovo, Dubronik, Korcula, Hvar and more. You choose the destination package, book the trip and get ready for smooth sailing where you will be astounded by the beauty as you take in the rich history of all of these destinations, too.
Relax, enjoy a drink from your personal refrigerator as you and your friends are treated to this not-to-be-missed adventure. You get a prepared breakfast and lunch for each day of your seven-day journey. If you fancy an adult beverage, there is no additional charge to bring your own beer, wine or other drink you fancy which you will want to share with new friends.
For fun, each yacht has paddleboards. If you decide you have had enough swimming for one swim-stop offered on each leg of the sailing holidays in Croatia you can overcome this dilemma by hopping up on your paddleboard and getting a whole new perspective of the beauty and charm that surrounds you. Day trips which include discounted car rentals are available, too, so that when you take your break from the yacht you can explore all these charming Croatian spots at your leisure.
Do you want to try your hand at sailing the yacht? On these special sailing jaunts, you are more than welcome to experience sailing with the help of your skipper.
If all of these fun activities ever wear you out, which they just may not, you can lay out on the deck of your yacht and soak up the sun.
With its stunning coastline, crystal-clear waters, and abundant sunshine, Croatia is the perfect destination for a sailing adventure.
One of the best things about Croatia sailing holidays is the opportunity to explore the country's many islands and hidden coves. From the bustling island of Hvar to the tranquil beauty of Vis, each island has its own unique charm and character. You can hop from island to island, exploring hidden beaches, quaint fishing villages, and ancient ruins along the way.
Of course, no Croatia sailing holiday would be complete without plenty of time spent in the water. Whether you're an experienced swimmer or just looking to cool off on a hot day, the waters around Croatia are perfect for swimming, snorkeling, and diving. You can swim in the crystal-clear waters, explore underwater caves and shipwrecks, and spot colorful marine life.
When you're not exploring the islands or swimming in the sea, there's plenty of time to relax and unwind on board your sailboat. You can soak up the sun on the deck, read a book, or enjoy a cold drink while taking in the stunning views. And in the evenings, you can enjoy a delicious dinner of fresh seafood and local specialties while watching the sunset over the water.
If you're looking for a truly unforgettable vacation, Croatia sailing holidays are a must. With stunning scenery, warm waters, and endless opportunities for adventure and relaxation, it's no wonder that Croatia has become one of the hottest sailing destinations in the world. So pack your bags, grab your sunscreen, and get ready to set sail on the adventure of a lifetime.

For travelers looking to explore South America, Chile is a must-visit destination. This narrow country is home to a diverse range of landscapes, from the arid Atacama Desert in the north to the icy fjords of Patagonia in the south.
When is better travel to Croatia?
The best time to travel to Croatia depends on your preferences and interests. The peak tourist season is during the summer months of July and August when the weather is warm, and the waters are perfect for swimming and water sports. However, this is also when the country is the busiest, and prices for accommodation and activities can be higher.
If you prefer fewer crowds and cooler temperatures, then the shoulder seasons of May and June or September and October are great times to visit. During these months, the weather is still pleasant, and many tourist attractions and restaurants are open, but there are fewer crowds, making it easier to explore the country's many hidden gems.
For those interested in winter sports, the best time to visit is from December to March, when the country's ski resorts are in full swing. The Christmas and New Year period is also a popular time to visit, with festive markets and events taking place throughout the country.
Overall, Croatia is a year-round destination, with something to offer visitors no matter what time of year they choose to travel.