[ad#ad-160]
The city of Makarska grew around a natural harbour protected by a picturesque peninsula of Sveti Petar (St. Peter) and the cape Osejava. It is the only harbour of this kind between the mouth of the Cetina and Neretva rivers.
In the past, it provided protection and safe harbour during stormy weather to sailors, pirates and merchants, and nowadays it does the same for yachts, sailing boats and tourist ships.
This contributed to its development into a trading port, especially during the Ottoman and Venetian occupation. Today, there is a ferry line which runs a few times a day from Makarska to Sumartin on the island Brac.
Makarska is a city in the Split – Dalmatia county of Croatia, population 13,716 (2001).
It is located on the Adriatic coast of Dalmatia, about 60 km south-east of Split and 140 km north-west of Dubrovnik. It is a tourist centre, located on a horseshoe shaped bay between the Biokovo mountain and the Adriatic Sea. The city is noted for its palm-fringed promenade, where fashionable cafés, bars and boutiques overlook the pretty harbour where many pleasure crafts are moored.
Arrival to Makarska over Biokovo, from Vrgorac, offers a breathtaking magnificent view of riviera, from Drasnice, Podgora, Tucepi, Brela, all the way to the Split, and in front to the islands Brac, Hvar, Korcula and peninsula Peljesac.
Center of Makarska is an old town with narrow stone-paved streets, a main church square where are a flower and fruit market, and a Franciscan monastery that houses a sea shell collection featuring a giant clam shell.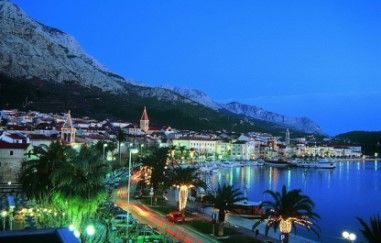 Most of the city's hotels are located just off of the bay and their own private beaches.
In Makarska, one can find many hotels, taverns, pub, pizzerias, coffee bars, pastry shops and everything else needed for a peaceful and carefree holiday in the sun-bathed shores of the Mediterranean.
Tourism in Makarska began long ago, even before the construction of the hotel Osejava in 1914. the largest city square is located in the city centre, near the waterfront – the square of Andrija Kacic Miosic, where numerous cultural events take place. The square was named after the most famous dalmatian poet.
Near the hotel Osejava, there is a sports centre with football and rugby, athletic track, basketball, handball, tennis, etc., and covered gym. This sports centre that offers the benefits and climatic conditions traditionally brings together a number of team athletes for winter training.
To this day, Makarska is known for its sandy beach, which is almost 2 kilometres long.
[ad#ad-336-280]
The walkways are lined with pine trees and surrounded by luxury hotels, tourist facilities, and gastronomical havens, and there is plenty of fun for both adults and children.
Makarska is located below the mountain of Biokovo (1762 m), which protects it from the harsh continental climate and is responsible for its rich Mediterranean vegetation, mild winters, long, warm summers cooled by a refreshing breeze called maestro.
Makarska has more than 2750 hours of sun each year and the air temperature above 20°C from July to September. During these same months, the crystal-clear sea also averages a temperature of above 20°C.