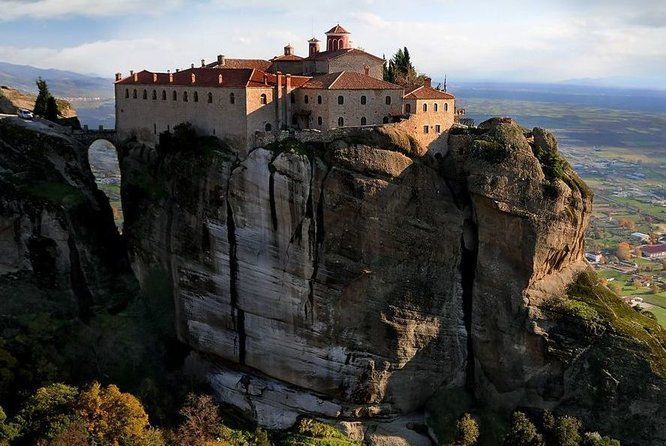 [ad#ad-160]
Meteora Greece monasteries World Heritage UNESCO Monasteries in northern Greece are situated close to Kalambaka, maintained historical and spiritual Hellenic traditions
The solitude and challenging accessibility is such that even developed a technique procedure using pulleys to bring food and supplies to stock through huge clifs.
Built on top of magnificent stones as a way to secure themselves from strikes and sieges, the monasteries of Meteora seem basically suspended in the sky.
The unusual scenery of Meteora is situated on the top of massive natural stones, created after a long time of break down of an excellent stream that ran into the sea from Thessaly.
The river that thousands of years ago, found a new path to the Aegean that after powerful quakes and erosive activity, whose modification were huge, created this unusual scenery.
They were made in the 14th century, where a number of Traditional Religious priests sheltering in caverns of the region. The priest took the decision to set up the constructions in hidden locations not reachable to the army of the Turks and Albanians.
[ad#ad-336-280]
There were a total of 24 monasteries in total, but many of them were destroyed by the germans in World War II.
Only 6 remain in use until today (five only for men and one is populated by nuns):
Monastery of St. Nicholas, (Αγιος Νικόλαος, Agios Nikolaos).
Monastery of St. Stephen, (Αγιος Στέφανος, Agios Stefanos).
Monastery of the Sacred Trinity (Αγία Τριάδα, Agia Triada).
Monastery of the Transfiguration, (Μονή Μεταμορφώσεως, Moni Metamorfóseos) or the Great Meteor (Μεγάλο Μετέωρο, Megalo Meteoro).
Roussanou Monastery, (Ρουσάνου).
Varlaam, (Βαρλαάμ).