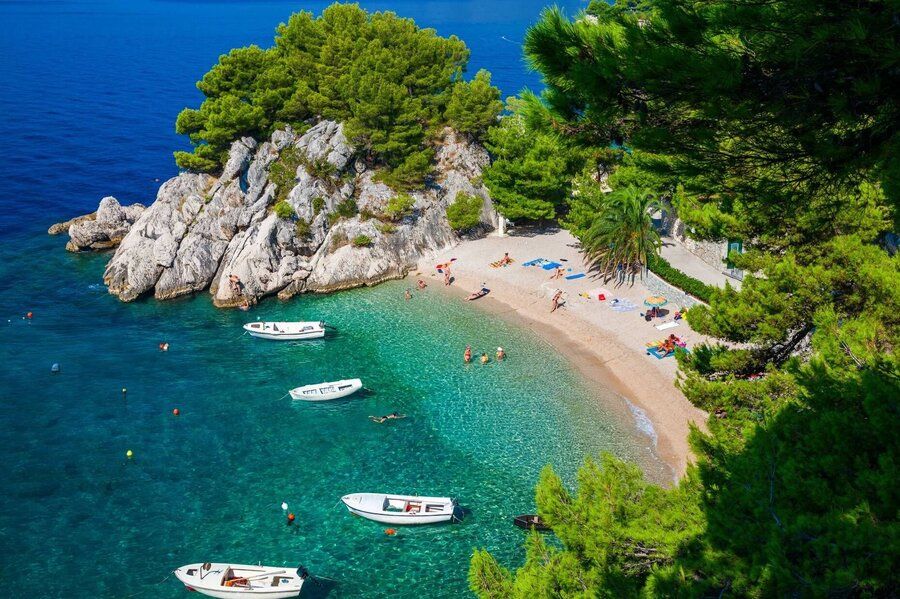 The Forbes magazine rated Brela in Croatia as the best beach in Europe and the 6th in the world.
As the sun-kissed jewel of the Dalmatian Coast, Brela Beach in Croatia beckons travelers with its breathtaking natural beauty, crystal-clear waters, and serene atmosphere.
Between the towering Biokovo Mountains and the glistening Adriatic Sea, Brela Beach has garnered a well-deserved reputation as one of Croatia's most stunning coastal destinations.
Whether you seek a relaxing escape, thrilling water activities, or simply a chance to bask in the Mediterranean sun, Brela Beach offers an unforgettable experience for beach enthusiasts and nature lovers alike.
Brela Beach is a sanctuary of tranquility, offering an idyllic escape from the bustle of daily life. The gentle lapping of waves and the soft caress of sea breezes create a soothing ambiance, inviting visitors to unwind and rejuvenate. Lounge on a comfortable sunbed, read a book, or simply close your eyes and let the sounds of nature wash over you. With its pristine environment and peaceful atmosphere, Brela Beach provides an oasis for those seeking solitude and inner peace.
Brela in Croatia is a small village with the beach at your feet, 6 kms of beach of white stones and plenty of coves along them, all surrounded by pine forest.
Probably is the Croatia's best beaches with a very crystalline water lapping the coves that stretch for 6 km so long.
The sand beach is more like gravel but it is easy to walk without feel the stones underfoot.
Every cove is almost like a private hideaway, surrounded by pine trees and invisible to any road and all but a few hotels views.
You need to visit "Kamen Brela" tanslated like Brela Stone, a small rock island localized in the main beach, the Punta Rata beach. This small island is the symbol of the town.
Also the town of Brela is a delight with its sub tropical greenery and appealing mixture of news and older houses.
The population is around 2.000 inhabitants and is part of the knowly Makarska riviera.

For the more adventurous souls, Brela Beach offers an array of exhilarating water activities. Dive into the crystalline waters to discover a vibrant underwater world, perfect for snorkeling or scuba diving enthusiasts. Grab a kayak or a stand-up paddleboard and explore the coastline, revealing hidden coves and secluded beaches along the way.
Adrenaline seekers can try their hand at jet skiing or embark on a thrilling boat ride to nearby islands. Brela Beach caters to every taste, ensuring that visitors of all ages and preferences will find something to delight them.
Local Cuisine and Hospitality: No trip to Brela Beach would be complete without indulging in the mouthwatering delights of Croatian cuisine. Nearby restaurants and beachfront cafes serve up an exquisite variety of seafood, freshly caught from the Adriatic Sea.
Savor the delicate flavors of grilled octopus, Dalmatian-style scampi, or the local specialty, black risotto.
Pair your meal with a glass of local wine and experience the warm hospitality of the Croatian people, who take pride in sharing their culinary heritage and making visitors feel like cherished guests.
Getting to Brela Beach Croatia
Getting to Brela Beach in Croatia is relatively easy, thanks to its convenient location on the Dalmatian Coast. Here are the main transportation options:
By Air: The closest international airport to Brela Beach is Split Airport (SPU), located approximately 70 kilometers away. It is well-connected to major European cities, with regular flights operated by both full-service and low-cost airlines. From the airport, you can reach Brela by renting a car, booking a private transfer, or taking a taxi. Alternatively, you can catch a bus from Split Airport to Split's main bus station and then transfer to a local bus heading to Brela.
By Car: If you prefer the flexibility of traveling by car, you can rent a vehicle from Split Airport or Split city and drive to Brela Beach. The journey takes around 1.5 to 2 hours, depending on traffic conditions and the route you take. The most common route is to follow the A1 highway from Split to the Šestanovac exit, and then continue on the D8 coastal road until you reach Brela. The road is well-maintained, and you'll have the opportunity to enjoy the scenic coastal views along the way.
By Bus: Brela is well-connected to major cities in Croatia through a network of bus services. The closest major bus terminal is in Split, which offers frequent connections to Brela. From Split's main bus station, you can catch a local bus operated by the company Promet Makarska or Autotrans to Brela. The journey takes approximately 1.5 to 2 hours, depending on the route and traffic.
By Ferry: Another option is to travel by ferry to Split, especially if you're coming from neighboring countries or nearby islands. Split has regular ferry connections with various destinations in Croatia and Italy. From Split, you can proceed to Brela by following the aforementioned transportation options, such as renting a car, taking a bus, or hiring a taxi.
Once you arrive in Brela, the beach area is easily accessible on foot, as it is located near the town center. However, if you're staying further away or wish to explore the surrounding areas, renting a car or using local buses and taxis can provide added convenience.
It's advisable to check transportation schedules and availability in advance, particularly during peak travel seasons, to ensure a smooth and hassle-free journey to Brela Beach.
Where stay in Brela Croatia
The hotel accomodation has improved in the latests years.
Have a lot of beds available probably in the next months some boutique hotels will be constructed.
All hotels are very well-located and are very close to the beach.
4 stars hotels in Brela Croatia
Hotel Sunceva Postelja
Hotel Bluesun Berulia
3 stars hotels
Hotel Maestral
Hotel Bluesun Marina
Hotel Soline
For private accommodation you can look at Casa Vecchia, Villa Arija, Apartmani Lozo, or Villa Petra which has a terrace with a very nice sea view.
Tourist Information
The tourist office (phone 021-618 255) is localized in Obala Kneza Domagoja that is the main street.