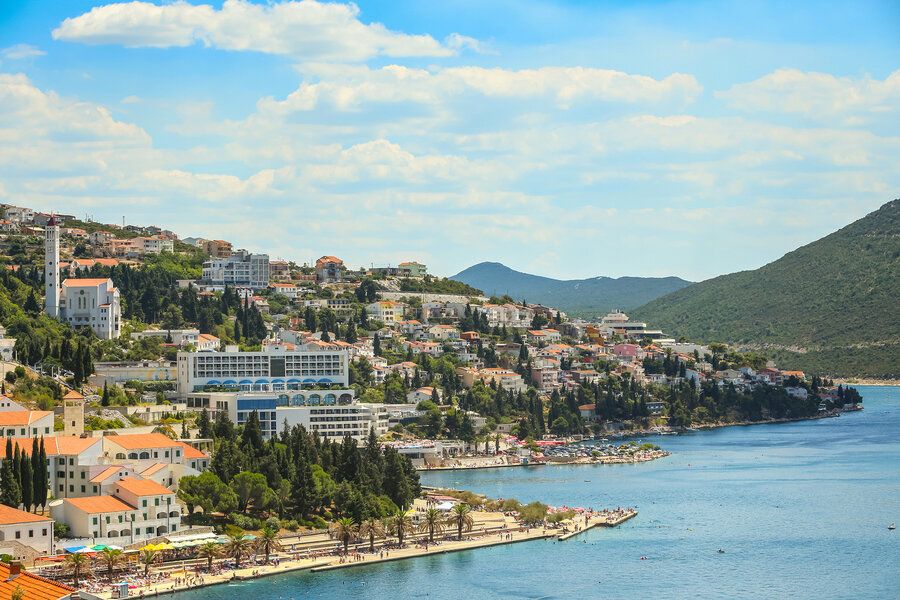 The location of Neum is very practical for visitors, because of its vicinity to the significant travel and leisure locations in nearby Croacia.
Nestled along the azure waters of the Adriatic Sea, Neum presents a unique and captivating coastal experience within the diverse landscape of Bosnia and Herzegovina. Known as the country's only coastal town, Neum offers a delightful combination of sun-kissed beaches, picturesque landscapes, and rich cultural heritage. In this article, we invite you to explore the charms of Neum, immersing yourself in its coastal splendor and discovering why it is a hidden gem for travelers seeking a seaside escape.
Coastal Bliss:
Neum's allure lies in its pristine beaches that stretch along the coast, inviting visitors to bask in the Mediterranean sun and take refreshing dips in the crystal-clear waters. Whether you seek bustling beach clubs or secluded coves, Neum offers a variety of coastal spots to suit every preference. Soak up the sun on the sandy shores, go snorkeling to discover vibrant marine life, or try your hand at thrilling water sports such as kayaking and jet skiing.
Natural Beauty:
Beyond its inviting beaches, Neum is surrounded by stunning natural beauty. Explore the nearby hills and hiking trails, allowing you to appreciate panoramic views of the Adriatic coastline and the charming town below. Venture into the picturesque hinterlands, where lush greenery and vineyards create a serene ambiance. Don't miss the opportunity to visit the mesmerizing Kravice Waterfalls, a short drive from Neum, where cascading waters plunge into emerald pools amidst a lush forest setting.
Cultural Heritage:
Neum is not just a coastal paradise; it also boasts a rich cultural heritage. Explore the town's historical landmarks, such as the 15th-century Church of St. Nicholas and the well-preserved Ottoman-era fortifications. Take a leisurely stroll along the seafront promenade, lined with charming cafes and restaurants, and indulge in the local gastronomy that beautifully blends Mediterranean and Balkan flavors.
Local Delicacies:
Neum offers a delectable culinary experience, featuring an abundance of fresh seafood delicacies. Sample the catch of the day, from grilled fish to succulent shellfish, prepared with traditional recipes that showcase the region's maritime heritage. Pair your meal with a glass of local wine, produced from the surrounding vineyards, and savor the authentic flavors that highlight the gastronomic delights of Neum.
Neum: Bosnia and Herzegovina's Coastal Oasis
Where to stay:
If you are planning a trip to Neum, Bosnia and Herzegovina, you might be wondering where to stay in this beautiful coastal town. Neum is the only seaside resort in Bosnia and Herzegovina, and it offers a variety of hotels and places to stay for different budgets and preferences. Here are some of the best options for your accommodation in Neum.
Grand Hotel Neum: This is the largest hotel on the Neum Riviera, renovated in 2013. It has a stunning view of the Adriatic Sea, a spacious outdoor pool, a wellness center, and a restaurant. The rooms are comfortable, modern, and equipped with free Wi-Fi, air conditioning, and mini-bars. The hotel is located about 1 km from the town center and has its own beach with sun loungers and parasols.
Hotel Novum: This is a new hotel that opened in 2020, offering a cozy and elegant atmosphere. The hotel has a garden, a shared lounge, a terrace, and a private beach with free sunbeds and umbrellas. The rooms are stylish, clean, and comfortable, with free Wi-Fi, air conditioning, flat-screen TVs, and balconies. The hotel also has a restaurant that serves delicious local and international dishes.
Hotel VAPORE: This is a 4-star hotel that boasts a superb location right on the beachfront. The hotel has a terrace, a restaurant, and a bar that offer panoramic views of the sea. The rooms are spacious, bright, and modern, with free Wi-Fi, air conditioning, flat-screen TVs, and mini-bars. The hotel also has a spa center where you can enjoy massages and treatments.
Hotel Orka: This is a modern hotel that offers a peaceful and relaxing stay. The hotel has a terrace with views of the coast where you can dine or have a drink. The rooms are cozy, clean, and well-equipped with free Wi-Fi, air conditioning, satellite TV, and mini-fridges. The hotel is located about 3 minutes' walk from the nearest beach and about 2 km from the town center.
Hotel Nova: This is a 4-star hotel that faces the beachfront and has a seasonal outdoor pool, a garden, and a terrace. The rooms are elegant, spacious, and comfortable, with free Wi-Fi, air conditioning, flat-screen TVs, and balconies with sea views. The hotel also has a restaurant and a bar that serve tasty food and drinks.
These are some of the best hotels and places to stay in Neum, Bosnia and Herzegovina. Whether you are looking for luxury, comfort, or affordability, you can find something that suits your needs and expectations in this charming town.
What to do in Neum:
If you are looking for a relaxing and scenic destination in Bosnia & Herzegovina, you might want to consider Neum. Neum is the only coastal town in the country, and it offers a variety of attractions and activities for visitors. Here are some of the things you can do in Neum:
Enjoy the Neum Coast. The coast of Neum is about 24 kilometers long, and it has several beaches and coves where you can swim, sunbathe, or enjoy water sports. The water is clear and calm, and the views are stunning. You can also take a boat tour or rent a kayak to explore the coast.
Visit the Church of St Anthony. This small stone church is located on a hill overlooking the town, and it dates back to the 18th century. It is a beautiful example of local architecture, and it has a rich history. You can admire the frescoes and paintings inside, or enjoy the panoramic view from the churchyard.
Explore the Museum and Gallery Neum. This museum showcases the cultural and historical heritage of Neum and its surroundings. You can see exhibits of traditional costumes, crafts, weapons, coins, and documents, as well as artworks by local artists. The museum also hosts various events and workshops throughout the year.
Relax at Neum Beach. This is the main beach in Neum, and it is a popular spot for locals and tourists alike. It is a sandy beach with umbrellas and sunbeds for rent, as well as cafes and restaurants nearby. You can also find some entertainment options, such as live music, games, or festivals.
Neum is a charming town that offers something for everyone. Whether you want to enjoy nature, culture, or leisure, you will find it in Neum. It is also a great base for exploring other attractions in Bosnia & Herzegovina or neighboring Croatia. Book your trip to Neum today and discover its beauty and charm.

Read our article about Best Caribbean Islands for Travelers on a Budget in our travel blog. Every week new travel articles for you.