[ad#ad-160]
The Kalin Tavern is a place to enjoy an amazing and strangely Limit evening and International too, between Croatia and Slovenia.
In the former Yugoslavia, now Croatia, Bosnia, Slovenia, Montenegro, Macedonia and Serbia is known for its border disputes.
Although conflicts of Yugoslavia ended 13 years ago, there are still situations that border the limit of imagination and this is demonstrated in this place located in the border area above.
It is precisely at the location of the Tavern Kalin which gives a very particular situation that can hardly be found anywhere else on our planet.
The Kalin Tavern was built about 180 years but it is noted that in some way unique and particular is located in a place with very precise boundaries between Croatia and Slovenia.
As can be almost anywhere in the Balkans, where the territorial limits of the region were redone in 2004 after the end the war in Yugoslavia.
To give you an idea of the particular and strange Kalin Tavern, the physical place designed to serve the food and eating are located to one side of a yellow line that is clearly painted on the floor of the place (as an unequivocal reminder the last war between peoples).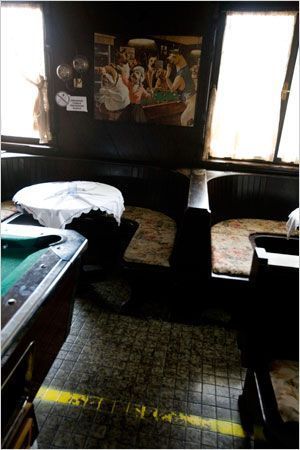 The yellow line that separates or is part virtually the house in two, clearly shows that you can be very comfortable sitting chatting before or after eating in the country of Croatia, but you should change from country to consume something and also the drinking will pay on the other side of the boundary line or in another country, which is Slovenia.
As you will see, you can easily walk into the property, but a row of poles outside the house, always remember or identify where one country ends and another begins.
As access to Kalin Tavern is located on the side that belongs to Slovenia, agents Croatian border security will not be nice if it goes beyond its limits after consuming brandy or liqueur.
If all this is too complex for a night out, keep in mind that the Kalin Tavern is popular for its delicious cooked pork and venison and that many of the customers are Croats and Slovenes, in addition to political figures.
[ad#ad-336-280]
Please reference should have avoided naming the last conflict to enjoy an evening strangely Limit and International.
The Kalin tavern place in the city of Obrezje is partially in Slovenia and in part in Croatia. Borderline is going throughout the restaurant. thru the window, it is visible a milestone marking a border and yellow line is marking borderline among Slovenia and Croatia.
This tavern is 200 years old and now the yellow line divides it in half between the two countries.