Slovenia is a country filled with natural and cultural treasures, but one of the most magical places that will captivate you with its beauty is Lake Bled and its picturesque medieval castle on an island. Nestled in the heart of Slovenia, this idyllic destination is a true paradise for nature, history, and tranquility lovers. In this article, we will explore the history, beauty, and activities that make Lake Bled a unique place in Europe.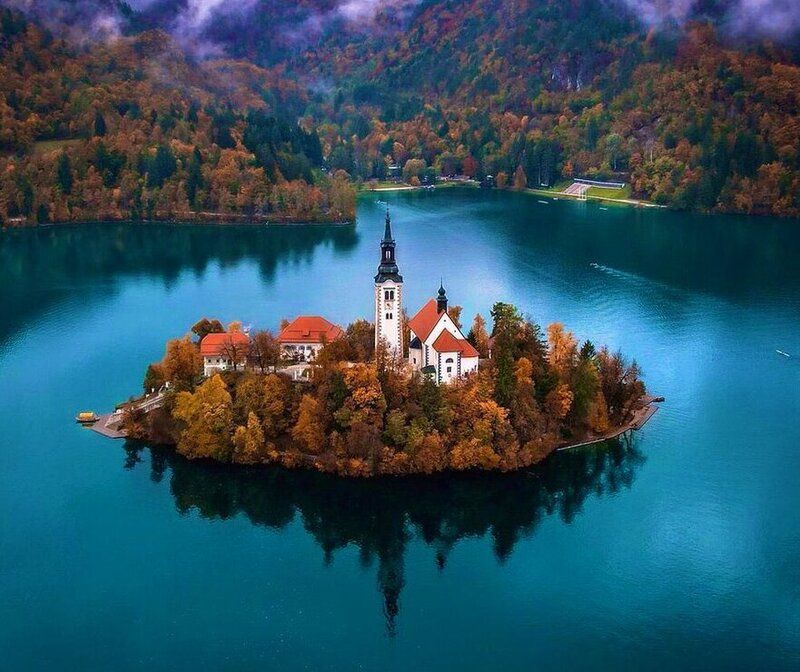 The Stunning Setting of Lake Bled Lake Bled is located in the Alpine region of Slovenia, just 55 kilometers from the capital, Ljubljana. Surrounded by high mountains and lush vegetation, the freshwater lake is like something out of a fairy tale.
The crown jewel of this lake is Bled Island, located in the center of the lake and crowned by a medieval castle. It's no wonder that Lake Bled has earned its reputation as one of the most romantic and picturesque destinations in Europe.
Bled Castle: A Glimpse into History Bled Castle, locally known as "Blejski Grad," majestically stands atop a 130-meter cliff above the lake. Its history dates back to the 11th century when it was built by the bishops of Brixen. Over the centuries, the castle changed hands and underwent renovations and expansions. Today, it is an excellent example of medieval architecture and a living testament to Slovenia's rich history.
The Path to the Island: The Pletna Tradition One of the most iconic experiences at Lake Bled is the journey to Bled Island. You can't reach the island by car, but there is a traditional means of transportation that will take you there: the pletna. These wooden boat-shaped vessels are operated by local fishermen, and a ride in a pletna is a unique experience. From the lake, you can see the castle perched on the cliff while you make your way to the island.
Bled Island: A Place of Enchantment Once you arrive at Bled Island, you will find yourself surrounded by a magical setting. The island's center houses the Church of the Assumption, a place of worship dating back to the 15th century. The church's bell tower rises above the island and offers spectacular views of the lake and its surroundings. Visitors can climb the 99 steps of the bell tower to enjoy these breathtaking panoramas.
The Bell Tower Tradition: Ringing the Bell One of the most famous rituals on Bled Island is ringing the church bell. It is believed that ringing the bell three times and making a wish will fulfill your dreams. This tradition has attracted visitors from around the world and is a charming part of the island's experience.
Activities at Lake Bled In addition to exploring the castle and the island, Lake Bled offers a variety of activities for travelers. Water sports like rowing and swimming are popular on the lake. You can also rent a bicycle and explore the trails around the lake, allowing you to enjoy the natural beauty and tranquility of the Alpine region.
Culinary Offerings at Lake Bled After a day of exploration, you must try Bled cream cake, a traditional dessert of the region. Local restaurants offer delicious Slovenian cuisine, including dishes like onion soup and Lake Bled trout. Don't forget to pair your meal with a white wine from the region, known for its quality.
Lake Bled in Every Season Lake Bled is a destination you can visit in any season. In summer, you can enjoy water activities and sunny days, while in winter, the landscape is covered in snow, creating a magical atmosphere for the holidays. Spring and autumn offer a peaceful and less crowded experience.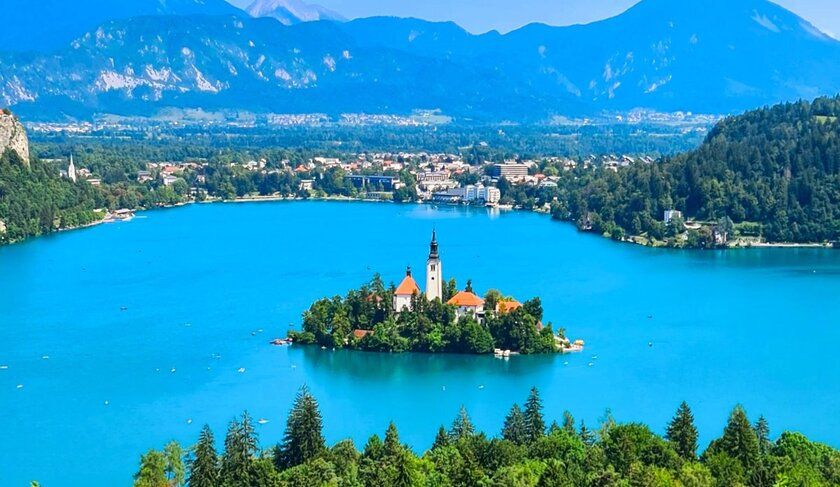 How to Get to Lake Bled: All Options
Lake Bled is one of Slovenia's most popular tourist destinations. This glacial lake, surrounded by mountains and featuring an island at its center, is an idyllic sight that attracts travelers from all over the world.
If you're planning a trip to Lake Bled, it's important to know how to get there. In this article, we'll tell you about all the available options, from public transportation to car rentals.
By Public Transportation The most economical way to get to Lake Bled is by public transportation. From Ljubljana, the capital of Slovenia, there are buses and trains that take you directly to the lake.
By Bus Buses are the most popular option for reaching Lake Bled. The Flixbus company offers several daily routes from Ljubljana. The journey takes about an hour and a half and costs around €8.
By Train You can also reach Lake Bled by train. The railway line connecting Ljubljana with Jesenice passes through Bled. The journey takes approximately an hour and 45 minutes and costs around €9.
By Car If you have a car, driving is the most comfortable way to get to Lake Bled. The distance between Ljubljana and Bled is about 70 kilometers, and the journey takes approximately an hour and a half.
By Tour If you want to avoid the hassle of planning your own trip, you can book a guided tour to take you to Lake Bled. These tours typically include transportation from Ljubljana, entrance to the main attractions, and a tour guide.
How to Reach Bled Island To reach Bled Island, you can take one of the traditional boats called pletna. Pletna boats depart from the Bled pier, and the journey takes about 15 minutes. The ticket price is €12 per person.
Tips for Getting to Lake Bled If you're traveling during the high season, it's advisable to book your transportation tickets in advance. If you're traveling by car, keep in mind that the A2/E-61 highway is tolled. If you want to avoid crowds, visit Lake Bled during the week or during the off-season.
Where to Stay: Best Options
Lake Bled is one of Slovenia's most popular tourist destinations. This glacial lake, surrounded by mountains and featuring an island at its center, is an idyllic sight that attracts travelers from all over the world.
If you're planning a trip to Lake Bled, it's important to choose the right accommodation for your needs and budget. In this article, we'll discuss the best accommodation options at Lake Bled.
Hotels Lake Bled offers a wide range of hotels, from large resorts to small family-run hotels. Some of the most popular hotels at Lake Bled include:
Grand Hotel Toplice: This luxury hotel is located directly on the lake and offers stunning views. Hotel Park: This 4-star hotel is situated in the center of Bled and provides good value for your money. Hotel Vila Bled: This 3-star hotel is located on the lake's shore and offers a romantic ambiance.
Apartments Apartments are a good option for travelers looking for more space and privacy. There are many apartments available at Lake Bled, from simple apartments to luxury ones.
Campsites
If you are looking for a cheaper option, you can stay in a campsite. There are several campsites near Lake Bled, some of which offer views of the lake.
Tips for choosing accommodation on Lake Bled
Consider your budget: Accommodation in Lake Bled can be expensive, especially in high season.
Think about your interests: If you want to be close to the action, staying in the center of Bled is a good option. If you are looking for a quieter environment, you can stay in a hotel or apartment further away from the center.
Book in advance: Lake Bled is a popular destination, so it is advisable to book your accommodation in advance, especially if you are traveling in high season.
If you want more information about places to visit in Slovenia, we recommend reading our article. Every week we share new articles with tips on places you should visit.