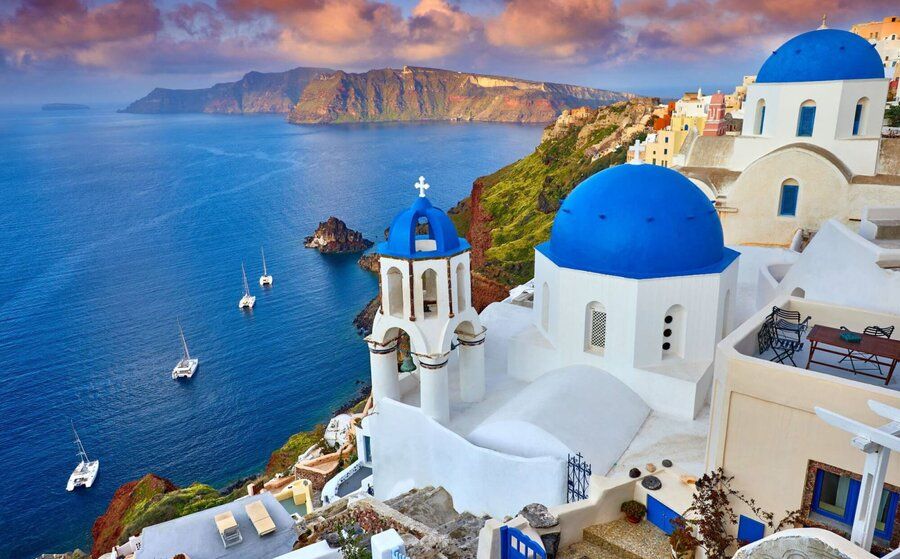 We start with this post a special about Greece, the cradle of civilization and mass tourist destination. A contradictory country, diverse, exciting and that leaves no one indifferent. We will visit its main tourist destinations and less known places, and we will try to offer a perspective of what Greece is today, after millennia of history.
How to get
Athens Airport is the main entrance for visitors. There are not many low-cost companies that fly here (EasyJet, Vueling and Sky Europe, mainly), but it is possible to find good offers by booking in advance. This summer, the suspension of the payment of fees intends to give an additional boost in times of crisis.
The second route of entry is direct flights to the islands, mainly charter flights of German or Nordic companies that offer "packs" in Crete, Rhodes, Santorini or any of the hundreds of idyllic islands of the Ionian seas and especially the Aegean.
There are many who come by ferry from southern Italy to the city of Patras, on the west coast. This trip was very popular when Italy and Greece belonged to the same Inter Rail area. There are also many who travel through the Balkans and arrive in Greece from Istanbul, Sofia or Belgrade. The Thessaloniki train station is the gateway for all these travellers.
When to come to Greece
The spring is probably the best season to visit Greece. Good temperature, but without reaching the suffocating heat of summer. The tourist areas begin to boil but are not yet overcrowded. Athens and the other big cities are still working, they have not gone on vacation yet. In addition, Orthodox Easter is celebrated in the spring, later than the Catholic Easter, and it is an event for the Greeks more important than Christmas itself.
For similar reasons, early autumn is a good time, although from the end of October, the temperature cools and the rain can make its stellar appearance. Winter in the south and the islands is mild, but in the north and inland, it is cold. In Greece, it also snows.
However, most visitors arrive in the summer. All Greece is on vacation. Those who are not resting, live for tourists. The islands are filled with foreign hordes. 
The hot nights last until dawn. The temperature of the sea is optimal to enjoy a bath, enjoy an ice cream frappe and take life very calmly.
Why visit Greece
Four years ago, a friend wanted to convince me that if I visited Greece, I would fall in love with her and would want to return at any time. I was so right that after many visits, I came to live there for almost a year. Greece is a country capable of attracting a multitude of reasons.
Hundreds of paradisiacal islands dotted with picturesque villages, forests and mountains in the interior, a great metropolis like Athens, and spectacular architectural remains of what was the most advanced civilization in the world. 
Greece is a destination for those who seek sun and beach as well as those who seek culture. It has thousands of hidden corners to discover and it is not difficult to escape from the massive tourist routes.

Best Greece islands to visit
Greece is home to over 6,000 islands, so it can be difficult to choose the best ones to visit. Here are a few of the most popular islands for tourists:
Santorini: Santorini is one of the most popular tourist destinations in Greece. It is known for its stunning caldera views, whitewashed buildings, and romantic atmosphere.
Mykonos: Mykonos is another popular island for tourists. It is known for its lively nightlife, beautiful beaches, and trendy boutiques.
Crete: Crete is the largest island in Greece. It is home to a variety of historical sites, including the Palace of Knossos, as well as beautiful beaches and mountains.
Corfu: Corfu is an island located in the Ionian Sea. It is known for its lush vegetation, charming villages, and clear waters.
Rhodes: Rhodes is an island located in the Dodecanese Sea. It is home to the medieval city of Rhodes, which is a UNESCO World Heritage Site.
These are just a few of the many great islands to visit in Greece. With its beautiful scenery, rich history, and friendly people, Greece is a country that is sure to surprise and delight any traveler.
The Greeks are hospitable, kind and passionate. Able to unsettle anyone with their parsimony and disorganization until it is the visitor himself who adapts to their rhythm, letting life pass and freeing of worries. Enjoying Hellenic character is part of the Greek experience. Foreigners will never feel rejected or ignored in Greece.
Oh, and of course, there's the food. Although that subject gives us to talk long and hard about subsequent occasions…
If you are planning to travel to Greece learn some Greek phrases before your trip.
Every week we add new articles about to travel to the balkan countries and another places.
Thanks to much for your atenttion.