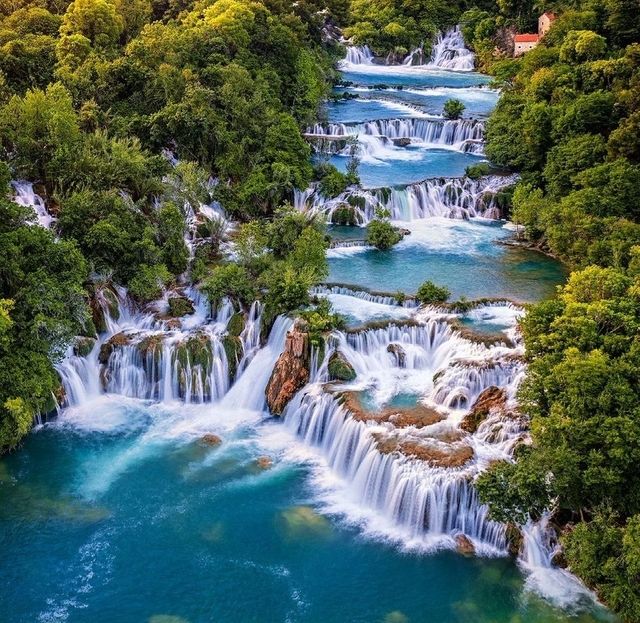 Croatia's national territory covers 56.594 square kilometers, with 31.479 square kilometers of coastal waters suitable for sailing, swimming, and diving.
Croatia controls most of the Adriatic Sea's eastern shore, which reaches deep into the European continent as part of the Mediterranean Sea.
The thin Dinar, a Mountain Range, divides the country's Mediterranean from its central European continental half, stretching from the Alps eastern margins in the northwest to the Danube's eastern beaches, embracing the lush Pannonian plains in the south.
Croatia and its Adriatic Coast hold an enticingly unique attraction.
The country looks like the fairies land from Dubrovnik's historical magnificence to the Adriatic islands.
Croatia attracts an increasing number of visitors with its 1,200 islands, turquoise waters, and attractive communities steeped in history.

Things you need to know:

+ The kuna, which is divisible into 100 Lipa, is Croatia's currency.
+ A bank (bank) or an exchange bureau (Mjenjanica) are ideal for swapping money. Keep in mind that banks typically close for lunch on weekdays and are closed on Saturdays in smaller towns. ATMs are present in all Croatian town centers.
+ The official language of Croatia is Croatian. English is spoken and understood by more than half of the population, and German and French are also commonly spoken.
+ Although tips (Napojnice) aren't required, it's courteous to round up the bill by ten percent or to the following convenient figure if you've enjoyed a round of drinks or a meal.
+ If you've been invited to someone's home, you'll almost always be given slippers when you arrive. Bringing gifts for the host is also customary and is considered a positive gesture.
Climate
Croatia has three distinct climatic zones: The shore enjoys a mild Mediterranean climate with plenty of sunshine throughout the year. Summers are hot and dry, with warm and damp winters.
As you travel inland, temperatures drop, and the environment becomes more arid and humid.
You'll be greeted with clean mountain air and temperatures around 13 oC in the summer months once you've climbed over 1,200 m, and it has 2175 hours of sunlight (more than Sydney).
Best activities to do in Croatia:
Hiking: Croatia is a fantastic place for tourists to enjoy some outdoor activities.
The wooded Mount Medvednica in Zagreb, crisscrossed by well-used routes, offers easy rambling territory in inland Croatia.
Entertainment: Croatia boasts an intense music scene, with indie rock at IN Music, cutting-edge dance music at Tisno, and dub-to-dubstep extravaganzas at the Punta Christo fortress near Pula.
Shopping: Zagreb is Croatia's best shopping destination. Many of the best Croatian souvenirs involve food and drink, such as world-class wines and herb-flavored rakija, which often include plant fragments in the bottle.
Scuba diving: In recent years, Croatia has established itself as one of the most popular scuba diving destinations in the Mediterranean.
The Kornati islands in central Dalmatia and the island of Mljet near Dubrovnik are two of the most rewarding diving destinations.
Beach-life: Croatia is home to some of Europe's top beaches, including the long, lush Kraljiina plaza (Queen's Beach) near Zadar, silkily sandy Grebe, and sublimely quiet, the calm shoreline of white sand and sloping cliffs near Vela Luka on picturesque Korula Island.
Luggage packing for the trip!
+ A continental power adaptor is required if arriving from outside of mainland Europe.
+ Comfortable shoes are recommended for walking about Croatia's cities and villages, as well as good walking boots if you plan to explore the stunning National Parks.
+ Sunscreen – Croatia's beaches and islands may be scorching hot in the summer.
+ Water shoes – while Croatia has lots of soft sand beaches, some of the country's most picturesque, turquoise-watered sunspots are pebbly.
+ Layering clothes and a waterproof jacket – Dubrovnik is windy all year, so expect to feel the wind while traversing the battlements.
+ Better not to ignore the last thing, the Egyptian cotton bath towel.
These cotton towels are widely regarded as one of the world's finest and most luxurious cotton, with a reputation for strength, absorbency, and incomparable softness.
Egyptian cotton is farmed without pesticides, and no dangerous chemicals are utilized in the production of the towels.

Conclusion:
Croatian tourism is on the upswing, and it's easy to see why.
Because of its magnificent beaches, historical areas of interest, picturesque national parks, and excellent gastronomy, this charming Central European country along the Adriatic Sea was named Travel + Leisure's Readers' Choice Destination of the Year last year 2016.
Before embarking on a visit to Croatia, don't forget to gather knowledge of the country and pack all necessary items, including appropriate clothing.

You can rest information about Makarska in Croatia for to visit this amazing city. Soon more articles about places to visit.